| | |
| --- | --- |
| Longtime prep football official Tom Savage passes away at age 74 | |
· MARTY JAMES mjames@napanews.com
There were not very many Friday nights in the fall when Tom Savage was at his home in Napa.
He was at work, officiating high school football games, either as the referee or umpire, in all areas of the North Bay – Napa County, Marin County, Sonoma County.
Savage, who passed away on Nov. 5 in Rancho Mirage, California, was in his 50th year as an official. He was with the North Bay Officials Organization, traveling to games wherever the group's assigner needed him to work.
"He'd go anywhere you needed him," said Pete Dardis, the NBOO's president. "It was, 'OK, no problem. I'll be happy to go.' He loved it. He was very dependable. He looked forward to doing it."
Savage stepped down from officiating in late September. He worked his last game on Sept. 30 as the umpire, when Terra Linda-San Rafael beat Rodriguez-Cordelia in a nonleague game, 34-33.
It was one of the eight games that Savage did this year as an official with the organization. His assignments this fall also took him to Justin-Siena, St. Helena and Piner-Santa Rosa.
"There's no question – he really did enjoy the game," said Dardis, a resident of Petaluma, who retired in 1995 after 35 years with Bank of America. "He was one of my very, very best and close friends. We went to the (PGA Tour's) Safeway Open together at Silverado. He's going to be missed by everybody."
Savage was on a golf trip with friends when he passed away. He was 74.
'Integrity' is the word that comes to mind for Dardis when talking about Savage, who retired after more than 40 years as a teacher at Redwood Middle School.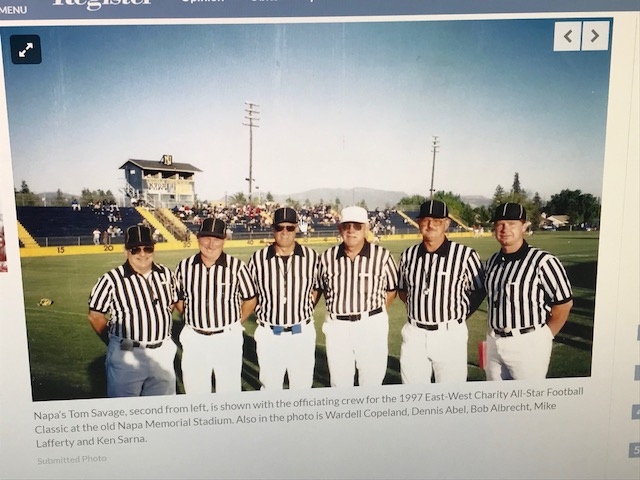 The NBOO, formed in the mid-1940's, trains and assigns certified football officials for high schools and youth football organizations in Marin, Sonoma, Napa, Mendocino and Solano Counties. NBOO crews work Marin County Athletic League, North Central League, North Bay League and Sonoma County League games. Officials are assigned to varsity, JV and freshman games.
"He truly just enjoyed what he did," said Nicole Savage, Tom's daughter. "He worked hard and he didn't expect anything for it. He would go to church daily. Just a very strong man, very supportive of all of us, and so humble.
"He gave to everyone and didn't really expect anything in return."
Savage received several awards by the NBOO, including:
Notable Service Awards (35 and 40 years).
Current Service Awards, which are given for longevity in the NBOO (20, 25, 30 and 45 years).
Al Lyon Award (1994).
The NBOO in 2012 honored Savage, a Saint Mary's College graduate who majored in political science and Spanish, at a banquet in Petaluma.
Savage has worked the other officiating positions on the field, including linesman, line judge and back judge.
He officiated Monticello Empire League, Marin County Athletic League, North Bay League, Sonoma County League and North Central League I games. He worked both junior varsity and varsity games on the same night, both Friday and Saturday.
"What I really liked was being able to see the different athletes from the various areas that we officiated," Savage said in a 2013 interview with the Napa Valley Register. "I really enjoyed reading about them and seeing how their athletic pursuits went later on, whether it was in college or professional. I've just enjoyed sports and going and having a chance to watch it from that perspective. I also got paid a little bit, so that helped out."
He retired in 2003 from the NVUSD, but continued on part-time as an instructional assistant for computer science. He spent his career teaching at Redwood Middle School. He taught P.E., history, math, Spanish and computer science.
Savage was on the crew for the annual East-West Charity All-Star Football Classic, which is no longer played.
He did a James Logan (Union City)-De La Salle (Concord) CIF North Coast Section championship game at the Oakland Coliseum and a Montgomery (Santa Rosa)-De La Salle
playoff game at California-San Ramon.
Savage also worked as a softball and baseball umpire in the area for well over 30 years with the North Coast Officials Association. He has also umpired Napa Valley Joe DiMaggio League, American Legion and Babe Ruth baseball, along with city league softball.
"He loved what he did," said Brian Savage, one of Tom's sons.
Tom Savage also officiated prep basketball games and coached youth basketball.
"Going to high school and growing up, I loved sports," said Tom Savage, who is from Santa Barbara.
"Sports … I think he lived it," said Nicole Savage. "It was one of the things that kept him young for so many years."
"It was a level of devotion that he put forward, and he enjoyed it," said Mike Savage, one of Tom's sons. "He did a lot of work and service. There was a level of service that my dad did quietly.
"My dad really appreciated being a part of the community in that role of the official. He was really helping the community."
Steve Meyer, a longtime Joe DiMaggio Baseball League official, said Tom Savage was a mentor to him in the North Bay Officials Organization.
"He was the one who got me into it and I was on his crew for nearly 10 years. He was an excellent role model and I feel honored to have been able to work with him."
"He was one of the most respected officials around and a true gentleman. He was an outstanding family man and always willing to help in need," said Meyer.
Tom Savage is survived by his children – Brian, Dennis (Heather) and Mike (Danielle) of Napa and Nicole of Gilbert, Arizona, and six grandchildren. He was predeceased by his wife Michele, brother John, his parents and his nephews Patrick Savage and John Skare.
A rosary will be held at St. Apollinaris Church, Thursday, Nov. 16 at 7 p.m. A funeral Mass will be held at St. Apollinaris Church, Friday, Nov. 17, at 1 p.m.
Executive Sports Editor Marty James has been with the Napa Valley Register since 1979. He is a member of the Associated Press Sports Editors, California Prep Sportswriters Association, and the California Golf Writers Association. He was inducted into the